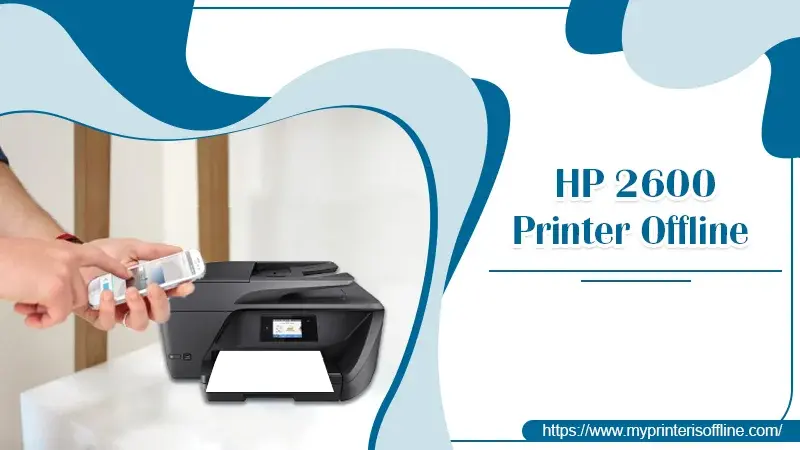 The Best Solution to Resolve HP 2600 Printer Offline Problem.
HP Deskjet 2600 is a high-performing printer model from the HP brand. Although it offers a good printing experience to the users most of the time, it cannot be said that it's fully shielded from every error. One of the most commonly reported ones is HP 2600 printer offline problem. This error occurs because of disrupted communication with HP 2600 printer. The error means that your computer system is not able to communicate well with the printer. A problem with your Wi-Fi connectivity and an IP address that's not properly configured are other causes behind this problem. If you are also dealing with the same issue, this article will give you effective resolutions.
Why Does HP 2600 Printer Offline Problem Occur?
This problem is a result of various reasons.
A disconnected network cable or USB.
A printing device that's off.
Your printer isn't set as the default one.
The status of the printer is offline.
Your printing device is configured to 'Use Printer Offline.'
The printer isn't responding.
Changed IP address of network mode.
Printer and file sharing is disabled.
The printer or any other device isn't being detected on the network.
A corrupt printer driver.
Fixes for the HP 2600 Printer Offline Problem
There are various ways to bring your HP 2600 printer online again. Keep reading to know what Windows and Mac users can do to resolve this error.
Reinstall your printer drivers
If you are encountering HP 2600 printer offline Windows 10, you can reinstall your printer driver to fix the problem. On the search box, input 'Uninstall a program.
Locate HP printer software.
Right-tap Uninstall.'
Open 'Devices and Printers.' In it, find your HP printer.
After that, right-tap it and select 'Remove Device.'
Start the Run command by hitting Windows key + R.
Input' printui.exe /s' and tap 'OK.'
Now tap the 'Drivers' tab.
Find the HP printer driver. Click on it and then tap 'Remove.'
Choose 'OK.'
Choose 'Apply' followed by 'OK' on the window of 'Print Server Property.'
Exit' Devices and Printers' after you remove the software and drivers.
Now restart your system.
Download compatible software and drivers from the HP website.
Fix the offline printer issue in Mac
To resolve HP 2600 printer offline Mac, by ensuring that your printer is powered on. Now, do the following things.
Check your USB/Wireless/Wired network connection by disconnecting and then establishing the connections again.
Inspect all the cables.
Power off the printer, and shut down your computer system.
Unplug the power cord, and reconnect it. Now try to print.
Try opening either 'Printers & Scanners,' 'Print & Fax,' or 'Print & Scan' on your Mac device. See if there are many printer queues. If there are, delete all of them except for your printer's print queue.
Make sure to un-pause printing by setting your printer as the default one.
Another way is to navigate to the printer's list and tap right to choose 'Reset printing system.'
Next, tap on 'Reset.' When no devices appear, try to print after you add your printer to the list.
Remove pending print jobs
Sometimes, pending print jobs can also make your HP Deskjet 2600 printer go offline. A good HP printer offline fix is to remove all pending print jobs. Follow these points for it.
Navigate to 'Control Panel.'
Now open 'Devices and Printers.'
Right-tap your printing device, then choose 'See what's printing.'
Tap the printer button. Click the option of 'Cancel all documents' from the dropdown.
After you eliminate the pending print jobs, click the 'Printer' button again.
Now choose the option of 'Use printer online.'
Set printer online manually.
You can also manually set up your HP Deskjet 2600 printer online. Follow these points for it.
Hit the Windows button, and in the Search box, input' control panel.' Then tap on it.
Navigate to 'Devices and Printers.'
Right-tap on your HP Deskjet 2600 printer, and choose 'See what's printing.'
Tap the 'Printer' button and choose 'Use printer offline.'
Check the cable and printer.
Ensure that every end of the USB cable is linked to the devices correctly. If you use a network printer, connect the Ethernet cable properly. Also, ensure to link the printer to the router and see the internet connectivity if you use a wireless printer. To check if it's not the fault of the cable, you can use a different cable. If you use a network or wireless printer, try connecting the printer to your computer system through a USB cable for confirming that your printer is functioning properly.
Final Words
Hopefully, the methods outlined above will help you troubleshoot the HP 2600 Printer offline problem. Follow them one at a time and start working with your printing device again. If you find any difficulties in this process, contact expert HP customer support services. You will get speedy resolutions to all your problems.